Pirate themed play days are always popular and make a frequent appearance on the early year's calendar. It's no surprise, with all the looting, funny voices, dressing up and role play opportunities. Add a Kitcamp pirate ship and the imagination really does know no limits!
Creating fun, with purpose.
The challenge with role play spaces is to create a fun space which includes purposeful and engaging writing, maths and mark making. All in addition to the communicative and co-operative play opportunities. We are, after all, educators and finding opportunities to learn the core skills whilst still placing value on the play is an exciting challenge. Little do those 'pirates' realise they can inspire rich learning opportunities!
A wealth of opportunities.
Once children have constructed their pirate ship with the modular panels and explored some of the toolkit activities, there are a wealth of more 'formal' learning opportunities to incorporate. We at Kitcamp have put together some of our favourites:
In maths children can;
Count the stacks of gold coins, individually and then in twos and fives. Help them to recognise quicker, and more efficient, ways of counting larger numbers.
Sort, count and match jewels. Using craft jewels means they can decorate props at the same time.
Use simple co-ordinates on treasure maps, an easily extended activity for those able to grasp the concept quickly.
In literacy children can; 
Use gold card cut out coins (pre-prepared) for phase 2 phonics – sorting real and fake words, the real words are the treasure.
Use Kitcamp panels to make a pirate hideout/reading den. Children can write the entry (or no entry) signs.
Develop speaking and listening and hold discussions around stealing. Considering pirates do still exist and that lots of our playing relates to stealing loot, holding a circle time would be highly appropriate as a focussed activity during this topic.

 

Write in the Captain's logbook – an engaging opportunity to get those reluctant writers having a go at longer sentences.

 
Parachute games
Making waves is an obvious link to any ship/ocean theme. Several traditional parachute games can be linked with little or no adaptation. Parachute run can be played with a pirate song to accompany the children running around to avoid the 'waves'. See-saw pull can also be adapted to create the sway of a pirate ship, whilst further building collaborative skills.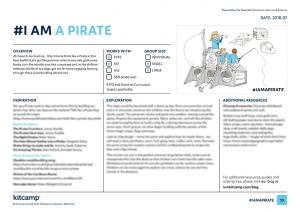 Kitcamp panels are so versatile that no two ships will look the same, just as no two pirate hats, flags or treasure maps will. There really is so much to incorporate into your pirate theme but bringing it to life in such a tangible way, with the Kitcamp toolkit, will mean pirate play takes on a brand new image.  Enjoy!