World Book Day on Thursday 4th March 2021 is, like many things, going to look a little different this year. The day is still about  changing lives through a love of books and this year to #ShareAStoryCorner with family and friends. What a great opportunity to remind us of the power of reading. A book is so much more than words on a page. It's knowledge, information, an invite to snuggle up and read, a ticket to another place or time, a catalyst for play.
Read Aloud: Share A Story
There's plenty of research indicating that when an adult reads to a child in an engaging way it develops emergent literacy and language skills1. In addition, the shared experience and focussed interaction supports the relationship between the parents and child and helps ignite a love of reading2. Moreover, the benefits of shared reading continue when adults carry on reading with children even after they become independent readers. Continued adult-child reading supports listening skills, pronunciation, spelling and vocabulary as well as confidence in speaking aloud. One simple shared story, so many positives for all. Take a look at the official World Book Day website for resources about sharing stories and live readings.  Get involved!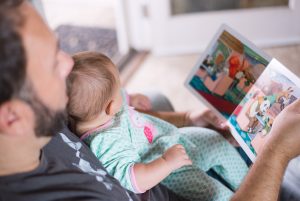 Breathe Life Into Books
Books also inspire play. There's a wonderful quote
"I don't just want to read books; I want to climb inside them and live there" (Anon).
At Kitcamp we love creating opportunities to Play, Make and Believe and books are wonderful prompts for all of these things! This Book Day, why don't you use the kit to:
– create a reading nook somewhere different, something that resonates with the children's interests. Perhaps it's a setting from a new favourite book, or somewhere magical with fairy lights, comfy cushions and cuddly toys from the story.
– set up an outdoor reading shelter, you can share a story anywhere! Drape Kitcamp in camouflage nets, call it a Hideout, add roll mats, blankets, head torches, spider's webs.
– create moveable scenery – set up a woodland, beach, town area or relevant setting. Use the cardboard inserts and whiteboard, or cover panels in brown paper. You could draw in outlines and main details and then the child draw, mark make, cut and paste ideas of their own. Add props and small world figures.
– create a series of storytelling boxes from Kitcamp, or each Kitcamp cube could be a different scene from a story, a 3D visual story map with small world figures and elements from the story.
Make an oversized story-telling chair or reading sofa, throw in cushions and blankets.
Be a Book Detective or Book Burglar!
To celebrate World Book Day, our Toolkit is full of ideas to promote play about books using Kitcamp in your setting. The #iamabookdetective Toolkit steps away from fairy tales and classic stories and towards 'books about books' and the realm of book crime, mystery and detectives. It takes the stories 'The Detective Dog' by Julia Donaldson and Emily MacKenzie's 'Wanted! Ralfy Rabbit, Book Burglar' as inspiration for the play, create and move activities. There are some magical lines, 'Stop! You little bunny book thief,' just before he gets caught 'read-handed'. It's not every day you see a rabbit wearing an I LOVE BOOKS T-shirt! Now there's an idea for this year's Book Day outfit.
We'd love to see how you celebrate stories and share a love of reading this World Book Day. How did you encourage reading anywhere? How did you use the kit this World Book Day? Post your pictures on our Facebook page #iamkitcamp or send an email to play@kitcamp.co.uk.
Find more ideas for breathing life (and play) into books over on our Facebook #iamkitcamp. Each day a member of the Kitcamp team shares their experiences and play ideas for World Book Day.
REFERENCES AND RESOURCES
1. Reading aloud to children: the evidence.
2. Reading with your child even after they can read.